Black Ops 4 Server Hosting
After the big announcement the Black Op 4 was releasing with dedicated servers we were ecstatic as we know that gamers like playing on dedicated servers and not peer to peer as they have done in the past.
Afterall we are the UK's #1 Game Server Hosting platform. We know what is needed to host a game to make your gameplay special and memorable. We do this by using the highest quality of hardware that is updated regularly.
We also provide the best support in the industry so no matter the time of day we have someone available to answer any of your questions. Why not join our discord server meet the staff and also a huge community of gamers and GTXGaming users.
The locations we support are
Los Angeles, Dallas, New York, London, Paris, Madrid, Stockholm, Moscow, Frankfurt, Singapore, Sydney.
Yes, your Black Ops 4 server is always online. That is the main reason to pay for game server hosting. All power and network traffic are covered in your subscription so that your server can be online all of the time. Even when your PC is turned off, your clan or community friends can join your server and play in your absence 24 hours a day, 365 days per year. 
If a Black Ops 4 server update is released all you need to do is click the Steam Update button on our control panel. The server will begin to check your files and update as necessary. 
This will not affect your world or files.
Our servers are instantly setup.  Immediately after ordering you can click 'My Services' and get your username and password for the control panel.  
Once you are logged in your server may still be 'Installing'. This simply means that your server is updating to the latest Black Ops 4 version via a Steam update.  After a minute or two, click refresh on your browser and your server will be shown as 'Running' and will be ready for you to configure with your own server title and admin password.
If you ever have any questions about your order open a support ticket.
Well, there are three ways you can host your own Black Ops 4 server. 
You could host a server it on your PC, but this means leaving your PC online 24 hours a day which can be costly on power. Also, most connections do not have sufficient upstream to be able to host a decent server.
You could rent a dedicated server and host a Black Ops 4 server on it. This option has some great benefits and we do offer dedicated servers should you go for this option. With a dedicated server, you will get all of the resources focused on one or several servers so you can guarantee the best possible performance. You get root access to the machine so you can easily update the server and run it with a Windows batch file. However, on the downside, there is the initial setup of the Conan Exile server which can take some time and expertise to get right, as well as updating it when an update comes out. You would also need to install MySQL and configure it. We do offer a TCAdmin2 license addon which gives you access to our control panel to create servers for only £20 extra per month which will make things a lot easier but with this option enabled you will not get root access (to protect our scripts).
The best solution is to rent a server from GTXGaming. Server rental will give you the best value for money. You get the control panel for free, and we host the server 24 hours a day, seven days a week. Rest assured that we do not overpopulate our machines and your server will run as smoothly as if you had a rented dedicated server. There are also added options of high CPU priority too so if your server is bustling with 100+ players you can add this to get things even smoother and with our 24-hour support you can be confident that you can get your Black Ops 4 server up and running in no time.
Black Ops 4 Server Hosting Key Features
Game Switching
Get bored with Black Ops 4? You can Game Switch to any other game we host with our easy switching tool.  Switch back anytime you want.
Offsite Backups
We zip up your Black Ops 4 server on every reboot and upload it to our offsite backup NAS. You will never lose data at GTX. We hold data from every reboot for 60 days.
True Instant Setup
Our automation means your Black Ops 4 server will be up instantly no matter what time of day it is. As soon as you order go to the client area, services and get your username and password.
24 Hour no quibble refund. If you order a Black Ops 4 server from us and are not entirely happy we will simply refund you.
Elegant Web Interface
With GTX you get full control of your game server via our beautiful web interface.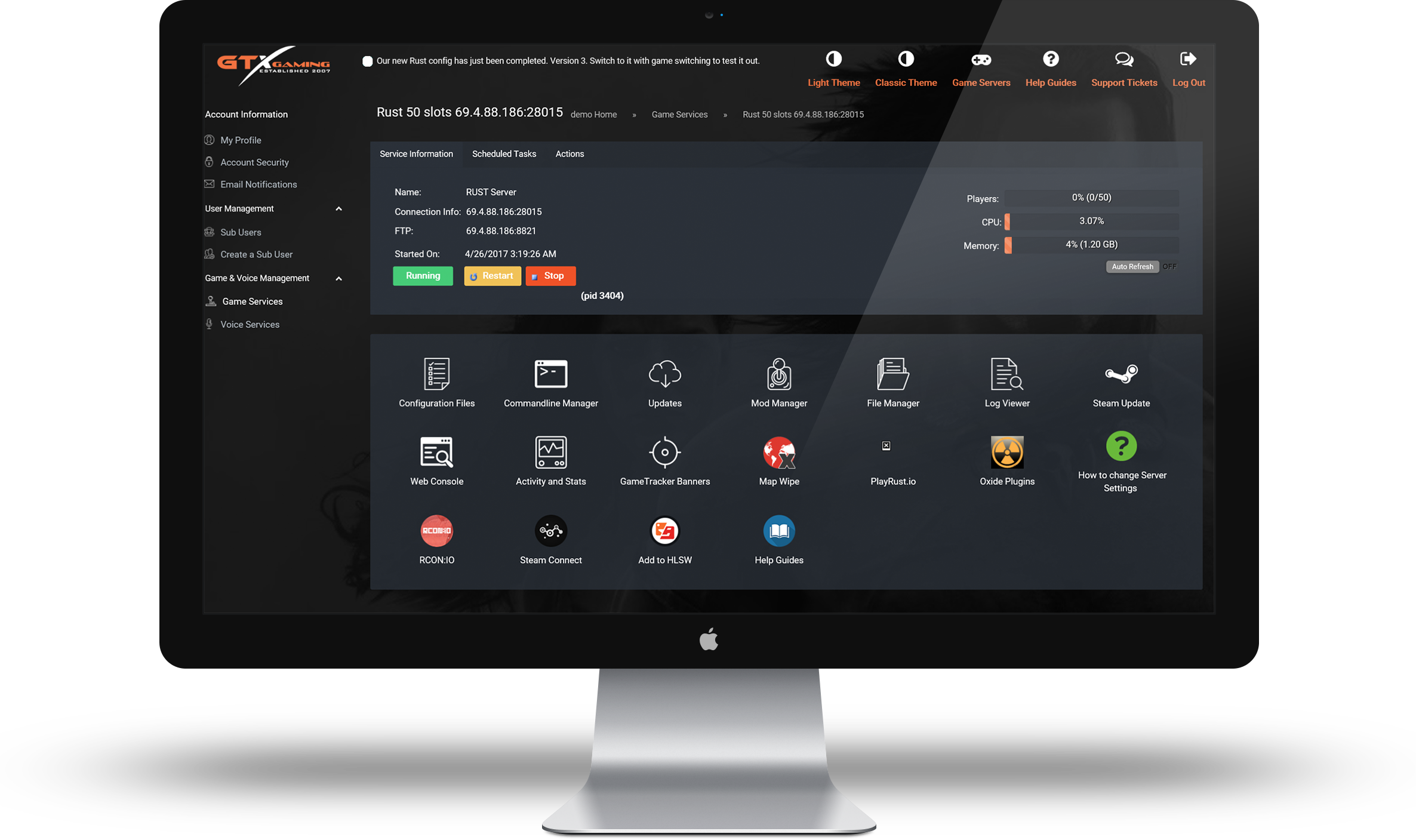 Black Ops4 Game Information. 
Are you ready for some high octane adrenaline rushed first-person shooting well you have come to the right place! The new installment of the highly popular Call of Duty Franchise COD Black Ops 4 will release in October of 2018.
On Release, there will be 3 game modes:-
Multiplayer which is going to be the main focus as there is no single player gameplay. In this installment, it is going to be boots on the ground, so no jets packs or wall running which a lot of the community is happy about. gameplay becomes more customizable than ever, giving players choice over how to power up their Specialists, having the ability to choose 10 different ways on which to build your character.
Zombies, you know what you need to do in this popular game mode, fortify and survive the zombie onslaught. There are going to be 3 zombie experiences at launch which will be great for all you zombie hunters.
Blackout is Black Ops 4 version of Battle Royal game mode boasting the biggest ever Call of Duty map ever created which is a combination of all of Black Ops most popular maps. Imagine Call of Duty over and survival all in one in this huge game mode. Allowing you to use vehicles both land and air. Squad up today with your clan and dominate the server and be the last men standing.
Safe & secure
GTXGaming makes extensive use of SSL encryption, database password md5 encryption and two-factor authentication across all of its services. Your personal information is 100% safe with us.
Help & Support
Support is open 24 hours a day, we are here for you and we pride ourselves on our high level of support and response time. Speak to us on live chat for a one to one.
Much more
Due to our investment in ownership, rather than renting, we are able to always give more to our customers than the next provider. Low margins and high quality delivered at very competitive prices. We give you extra.