ARK Survival Evolved Server Hosting
The Ark server hosting at GTXGaming is the most feature rich you can find online. Every feature possible is integrated into our hosting control panel so you can quickly change settings with drop-down menus and easy 'tick to enable' menus. You will not find an easier to use control panel anywhere.
We have full 24-hour instant support and use brand new Dell machines replaced every year to keep up to date with the latest technology, we have always been at the cutting edge of the hosting industry in our ten years of hosting. We do not scrimp on server specs meaning we can give our Ark servers unlimited memory, and dedicated cores, so your server uses whatever it needs to no matter how many plugins you install. We will never limit you.
We are constantly and relentlessly updating our Ark Survival Evolved control panel templates, adding new functionality requested by our users and keeping up with all of the new features the amazing developers at Wildcard Studios release. Please take a glance at all of the features detailed below. We also offer a 24-hour refund policy if you are not entirely satisfied so test us out risk-free.
Players
10 Players
20 Players
50 Players
70 Players
100 Players
Cost
/Month
$12.06
$18.76
$38.85
$48.23
$54.93
Prices are in dollars and may be subject to small changes based on changing currency exchange rates.
ARK Survival Evolved Game Information
ARK Survival Evolved was released on August 1st 2015 and has been extremely popular. As a game server host, we were shocked at a number of orders we were getting and put 100% effort to make sure our hosting was the best out there. We have easy to use configuration editors. Just see our control panel video at the top of the page. If you ever have any suggestions for us or amendments you think will make our hosting even better then please tell us via the contact us form. Also some great news. Soon we will be able to host PS4 and Xbox servers as early as March.
Ark: Survival developed is an action-adventure survival game laid out in a free world that uses a first-person linear perspective, with the power to use a third-person position in some cases. To pull through, players must build a base, with a fire and artilleries; extra activities, such as domesticating and feeding of dinosaurs, demand more resources. The game's world, called the "Ark," is around 30 square miles in size; there is close to 36 sq km of land mass, with 8 square miles of blue ocean.
To establish a base, players must acquire structure elements such as floors, doors, and windows constructed with the resources cluttered throughout the world. These resources are garnered as the players advance and increase levels. These elements can be crafted and positioned in the world. Players can make whatever structure, so far they have the logistics and resources; the structural wholeness of the building is ruined when the pillars and groundworks are demolished. Making structures from metal make them the most long-lasting; only titanosaurs and explosives can impair metal structures. Players could also make game items such as arms, which can be accomplished by gathering the resources and appy science for crafting. Players can make and tie the accessories to their weapons, such as a flashlight or scope for a machine gun or pistol. In case the players get hurt, their health meter will regenerate in bits if they've consumed the essential food, or if they make items that restore the health meter at a faster rate Sixty species of dinosaurs are present in the game. These dinosaurs in the game can be domesticated by giving them food after they've been made unconscious, or by using kibble that's designed particularly for each species.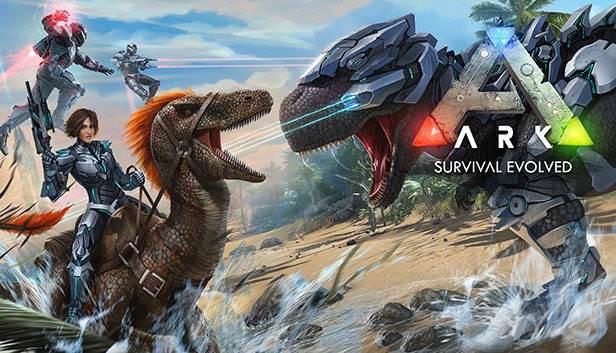 Once a dinosaur is domesticated, players can use the dinosaur's abilities, such as fast underwater movement or flight or, and its statistics, such as health, speed, damage. When riding on top of these creatures, players lose grip of their personal arms. With the bigger dinosaurs, however, other players can comfortably ride on with total control of their weapons. They can also be used to bear items, and players can issue abusive and justificative commands to them; for instance, a pack of super slashers can be designated to guard the base, or a set of Triceratops can be told to assail an enemy's base. The game also has several other animals, like the sabre-toothed cat, dodo, woolly mammoth, Titanomyrma, and Meganeura. Every animate being in the game has life ecosystems and predator pecking order.
The Survival of the Fittest game mode was brought out in early access on March 16, 2016, as a free complete game without any microtransactions. It was meant to be launched fully in the middle of 2016 but was finally combined with the main game as the development team didn't wish to monetize its release. They also wanted to ascertain that modders can use the Survival Evolved's development kit to make mods for Survival of the Fittest. With our ark server hosting, you can host your own server and set the rules how you want them. Be god of your own domain.