Space Engineers Server Hosting
Welcome to the Offical Server provider of Space Engineers. We have worked tirelessly to get a setup that is as easy as 1.2.3. Our control panel is one of a kind that is custom to GTXGaming.
Along with having an easy setup process with true instant setup we also use high-end hardware so you never mean a beat.
We have the best support team in the universe so no matter where you are in space we are here to support you no matter the time of day or night.
Why not join out discord community of gamers and become apart of the GTXGaming family.
The locations we support are
Los Angeles, Dallas, New York, London, Paris, Madrid, Stockholm, Moscow, Frankfurt, Singapore, Sydney.
Yes, your Space Engineers server is always online. That is the main reason to pay for game server hosting. All power and network traffic are covered in your subscription so that your server can be online all of the time. Even when your PC is turned off, your clan or community friends can join your server and play in your absence 24 hours a day, 365 days per year. 
If a Space Engineers server update is released all you need to do is click the Steam Update button on our control panel. The server will begin to check your files and update as necessary. 
This will not affect your world or files.
Our servers are instantly setup.  Immediately after ordering you can click 'My Services' and get your username and password for the control panel.  
Once you are logged in your server may still be 'Installing'. This simply means that your server is updating to the latest Space Engineers version via a Steam update.  After a minute or two, click refresh on your browser and your server will be shown as 'Running' and will be ready for you to configure with your own server title and admin password.
If you ever have any questions about your order open a support ticket.
Well, there are three ways you can host your own Space Engineers server. 
You could host a server it on your PC, but this means leaving your PC online 24 hours a day which can be costly on power. Also, most connections do not have sufficient upstream to be able to host a decent server.
You could rent a dedicated server and host a Space Engineers server on it. This option has some great benefits and we do offer dedicated servers should you go for this option. With a dedicated server, you will get all of the resources focused on one or several servers so you can guarantee the best possible performance. You get root access to the machine so you can easily update the server and run it with a Windows batch file. However, on the downside, there is the initial setup of the Space Engineers server which can take some time and expertise to get right, as well as updating it when an update comes out. You would also need to install MySQL and configure it. We do offer a TCAdmin2 license addon which gives you access to our control panel to create servers for only £20 extra per month which will make things a lot easier but with this option enabled you will not get root access (to protect our scripts).
The best solution is to rent a server from GTXGaming. Server rental will give you the best value for money. You get the control panel for free, and we host the server 24 hours a day, seven days a week. Rest assured that we do not overpopulate our machines and your server will run as smoothly as if you had a rented dedicated server. There are also added options of high CPU priority too so if your server is bustling with 100+ players you can add this to get things even smoother and with our 24-hour support you can be confident that you can get your Space Engineers server up and running in no time.
Space Engineers Server Hosting Key Features
Game Switching
Get bored with Space Engineers? You can Game Switch to any other game we host with our easy switching tool.  Switch back anytime you want.
Offsite Backups
We zip up your Space Engineers server on every reboot and upload it to our offsite backup NAS. You will never lose data at GTX. We hold data from every reboot for 60 days.
True Instant Setup
Our automation means your Space Engineers server will be up instantly no matter what time of day it is. As soon as you order go to the client area, services and get your username and password.
24 Hour no quibble refund. If you order a Space Engineers server from us and are not entirely happy we will simply refund you.
Elegant Web Interface
With GTX you get full control of your game server via our beautiful web interface.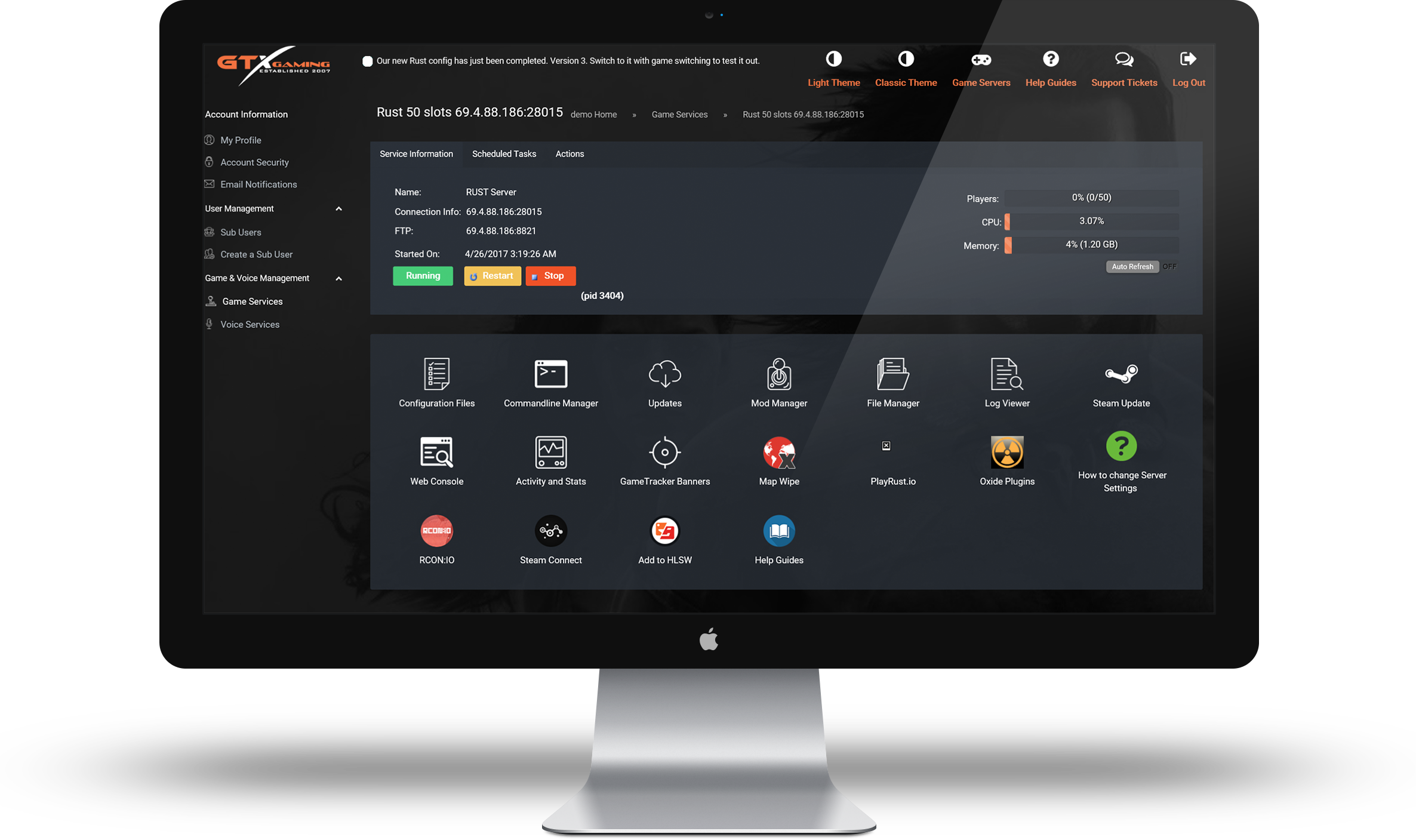 Space Engineers Game Information. 
Space Engineers is a space exploration game with a range of goals. Featuring open world survival in a sandbox universe, it allows you to construct bases and ships, planetary outposts, and even space stations. Players can explore distant planets through the use of ships, and seamlessly land on them to explore and gather resources, all of which will be needed not only to survive but in order to begin building and engineering new items that will help you survive and expand.
The game has sold over 1.7 million copies thus far and has even won the title of best indie game of 2015 (IndieDB). This may be in part due to the fact that the game has almost endless possibilities. With its volumetric-based physics engine, players can quite literally break and build at will. Add on the great multiplayer component and you have an award-winning game that can be enjoyed for hours on end.
Marek Rosa originally had the idea for Space Engineers back in 2002 when he realized that his childhood LEGO and LEGO TECHNIC toys would make a great basis for a physics-sandbox game that allowed players to create and build in a grid-based environment. However, the technology needed for such an approach did not exist. So to begin with, Marek focused on creating dynamic voxel terrain. This led to the first game by the studio, called "Miner Wars 2081".
Space Engineers is the next step. Based on how physics work in real life, the game aims to replicate this through accurate game mechanics representing the use of technology that is feasible in the not too distant future. However, for the sake of enjoyable and interactive gameplay, some changes have been made which are not as "realistic" as they could be. These have been made in order to make the game more enjoyable through fun mechanics. The game isn't aimed at being a survival pvp shooter, however, it can be played like this. The main focus of development is to make a game aimed at building and construction. It is more about the machinery and marvels that you build as opposed to the number of players you beat in combat.
Currently available on Steam Early Access, the game is going through a cycle of constant development and improvement, with new features being added regularly. It will remain in this state until enough feedback has been taken into consideration and implemented. Optimization and bug fixes will be a regular occurrence, and players can expect to find such bugs whilst playing. New content and features will also be added frequently until the game reaches a point in which it can be released as a full game. All features are subject to change.
Space Engineers uses the engine VRAGE 2.0, which was developed by Keen Software House. The engine stands for "volumetric rage" and/or "voxel rage". More information can be found at www.keenswh.com/vrage.html.
Safe & secure
GTXGaming makes extensive use of SSL encryption, database password md5 encryption and two-factor authentication across all of its services. Your personal information is 100% safe with us.
Help & Support
Support is open 24 hours a day, we are here for you and we pride ourselves on our high level of support and response time. Speak to us on live chat for a one to one.
Much more
Due to our investment in ownership, rather than renting, we are able to always give more to our customers than the next provider. Low margins and high quality delivered at very competitive prices. We give you extra.