| Name Of Server | | | | | | | |
| --- | --- | --- | --- | --- | --- | --- | --- |
| E3-GTX SSD | PARIS | 3.4Ghz Intel Xeon 1245v2 32GB DDR3 ECC 2x480GB SSD Windows/Linux 1GB Port (Unlimited Traffic) | | 2-6 Hours | IPv4 x1 (Additional Available) | Paris, FranceMontreal, Canada | GBP: £79.99 USD: $101.23EUR: €98.39 | |
| E3-GTX RE4 | PARIS | 3.4Ghz Intel Xeon 1245v2 32GB DDR3 ECC 3x2TB RE4 Enterprise GradeWindows/Linux 1GB Port (Unlimited Traffic) | | 2-6 Hours | IPv4 x1 (Additional Available) | Paris, FranceMontreal, Canada | GBP: £69.99USD: $93.79EUR: €86.09 | |
| E5-GTX SSD | PARIS | 3.8Ghz Intel Xeon E5-1630v3 64GB DDR4 ECC 2133 2x480GB SSDWindows/Linux 1GB Port (Unlimited Traffic) | | 2-6 Hours | IPv4 x1 (Additional Available) | Paris, FranceMontreal, Canada | GBP: £93.99 USD: $125.953EUR: €115..61 | |
| E3-GTX | 3.9Ghz Intel Xeon E3-1270v664GB ECC DDR 4 MEMORY 1x 500GB\1TB SSD\NVMe. Windows/Linux 1GB Port (30TB) | | 2-6 Hours | IPv4 x1 (Additional Available) | London, England, UKAmsterdam, Netherlands | GBP: £110.00USD: $147.40EUR: €135.30 | |
| E-2288G-GTX (NEW) | 3.6Ghz Intel e2288G (5.0GHz Turbo)64GB ECC DDR 4 MEMORY 2x960GB NVMe.Windows/Linux 1GB Port (Unlimited Traffic) | | 2-6 Hours | IPv4 x1 (Additional Available) | London, England, UKGermany, FrankfurtFrance, ParisFrance, GravelinesFrance, StrasbourgPoland, Varsovie | GBP: £149.99USD: $200.99EUR: €184.49 | |
| E-2288G-GTX (NEW) Supports 128GB DDR 4 Ram | 3.6Ghz Intel e2288G (5.0GHz Turbo)128GB ECC DDR 4 MEMORY 2x960GB NVMe.Windows/Linux 1GB Port (Unlimited Traffic) | | 2-6 Hours | IPv4 x1 (Additional Available) | London, England, UKGermany, FrankfurtFrance, ParisFrance, GravelinesFrance, StrasbourgPoland, Varsovie | GBP: £179.99USD: $241.19EUR: €221.39 | |
| i7-GTX 7700K | 4.2Ghz Intel i7 7700K (4.5Ghz Max Turbo)64GB DDR4 MEMORY 2x450GB NVMe.Windows/Linux 1GB Port (Unlimited Traffic) | | 2-6 Hours | IPv4 x1 (Additional Available) | London, England, UKGermany, FrankfurtCanada, BeauharnoisFrance, GravelinesFrance, StrasbourgPoland, Varsovie | GBP: £124.99USD: $167.49EUR: €153.74 | |
| i7-GTX 7700k (OVERCLOCKED) | 4.7ghz Intel i7 7700k (OVERCLOCKED) 64GB DDR4 2400 MHz 500GB SSD\1TB\NVME.Windows/Linux 1GB Port (Unlimited Traffic) | | 2-6 Hours | IPv4 x1 (Additional Available) | London, England, UK | GBP: £139.99USD: $187.59EUR: €172.19 | |
| i7-GTX 8700K | 3.7ghz Intel i7 8700K(4.7Ghz Max Turbo)64GB DDR4 2400 MHz 1x 500GB\1TB SSD\NVMe.Windows/Linux 1GB Port (Unlimited Traffic) | | 2-24 Hours | IPv4 x1 (Additional Available) | London, England, UK | GBP: £134.99USD: $180.89EUR: €166.04 | |
| i9-GTX 9900K | 3.6ghz Intel i9 9900K (5.0Ghz Max Turbo)64GB DDR4 2400 MHz 1x 500GB\1TB SSD\NVMe.Windows/Linux 1GB Port (Unlimited Traffic) | | 2-24 Hours | IPv4 x1 (Additional Available) | London, England, UK | GBP: £159.99USD: $214.39EUR: €196.79 | |
| AMD-RYZEN-GTX3950x (16 Cores,32 Threads) | 3.5 GHz+ Amd Ryzen 3950x(4.7Ghz Max Turbo)16 Cores\32 Threads128GB DDR4 ECC 2x2TB SSDWindows/Linux 1GB Port (20TB TRAFFIC) | | 2-24 Hours | IPv4 x1 (Additional Available) | Miami, USANew York, USA | USD: $314.68GBP: £259.00EUR: €290.51 | |
| E3-GTX | DALLAS | 3.6 GHz+ Intel Xeon E-2234(4.8Ghz Max Turbo)32GB DDR4 ECC 512GB SSDWindows/Linux 1GB Port (Unlimited Traffic) | | 2-24 Hours | IPv4 x1 (Additional Available) | Dallas, USA | USD: $140.70GBP: £105.00EUR: €129.15 | |
| E3-GTX | NEW YORK | 3.6 GHz+ Intel Xeon E-2234(4.8Ghz Max Turbo)32GB DDR4 ECC 512GB SSDWindows/Linux 1GB Port (Unlimited Traffic) | | 2-24 Hours | IPv4 x1 (Additional Available) | New York, USA | USD: $140.70GBP: £105.00EUR: €129.15 | |
| E3-GTX | LA | 3.5 GHz+ Intel Xeon E-2134(4.6Ghz Max Turbo)32GB DDR4 ECC 512GB SSDWindows/Linux 1GB Port (Unlimited Traffic) | | 2-24 Hours | IPv4 x1 (Additional Available) | Los Angeles, USA | USD: $140.70GBP: £105.00EUR: €129.15 | |
| E3-GTX | DALLAS | 3.8 GHz+ Intel Xeon E-2276G(4.9Ghz Max Turbo)64GB DDR4 ECC 2x 500GB SSD(Upgradeale to NVME)Windows/Linux 1GB Port (Unlimited Traffic) | | 2-24 Hours | IPv4 x1 (Additional Available) | Dallas, USA | USD: $174.20GBP: £130.00EUR: €159.90 | |
| E3-GTX | NEW YORK | 3.8 GHz+ Intel Xeon E-2276G(4.9Ghz Max Turbo)64GB DDR4 ECC 2x 500GB NVMEWindows/Linux 1GB Port (Unlimited Traffic) | | 2-24 Hours | IPv4 x1 (Additional Available) | New York, USA | USD: $174.20GBP: £130.00EUR: €159.90 | |
| E3-GTX | LA | 3.8GHz+ Intel Xeon E-2276G(4.9Ghz Max Turbo)64GB DDR4 ECC 2x 500GB SSD(Upgradeale to NVME)Windows/Linux 1GB Port (Unlimited Traffic) | | 2-24 Hours | IPv4 x1 (Additional Available) | Los Angeles, USA | USD: $174.20GBP: £130.00EUR: €159.90 | |
| i7-GTX 7700K | 4.2 Ghz+ Intel i7 7700K (4.5Ghz Max Turbo)64GB DDR4 1x 500GB\1TB SSD\NVMe.Windows/Linux 1GB Port (Unlimited Traffic) | | 24-48 Hours | IPv4 x1 (Additional Available) | Dallas, Los Angeles, New York USA | USD: $167.50GBP: £125.00EUR: €153.75 | |
| i9-GTX 9900K | 3.6 GHz+ Intel i9 9900K (5.0Ghz Max Turbo)64GB DDR4 1x 500GB\1TB SSD\NVMe.Windows/Linux 1GB Port (Unlimited Traffic) | | 2-24 Hours | IPv4 x1 (Additional Available) | Dallas, Los Angeles, New York USA | USD: $187.60GBP: £140.00EUR: €172.20 | |
| E3-GTX | SYDNEY | 3.7Ghz Intel Xeon E3-1245v5 32GB DDR4 ECC 2x 450GB NVMe. Windows/Linux 1GB Port (Unlimited Traffic) | | 2-24 Hours | IPv4 x1 (Additional Available) | Sydney, Australia | AUD: $153.00USD: $187.60 | |
| i7-GTX-7700K | SYDNEY | 4.2Ghz + Intel i7-7700K(4.5Ghz Max Turbo) 64GB DDR4 2x 450GB NVMe. Windows/Linux 1GB Port (Unlimited Traffic) | | IPv4 x1 (Additional Available) | 2-24 Hours | Sydney, Australia | AUD: $238.00USD: $187.60 | |
Create Your Own Servers With Our Control Panel Addon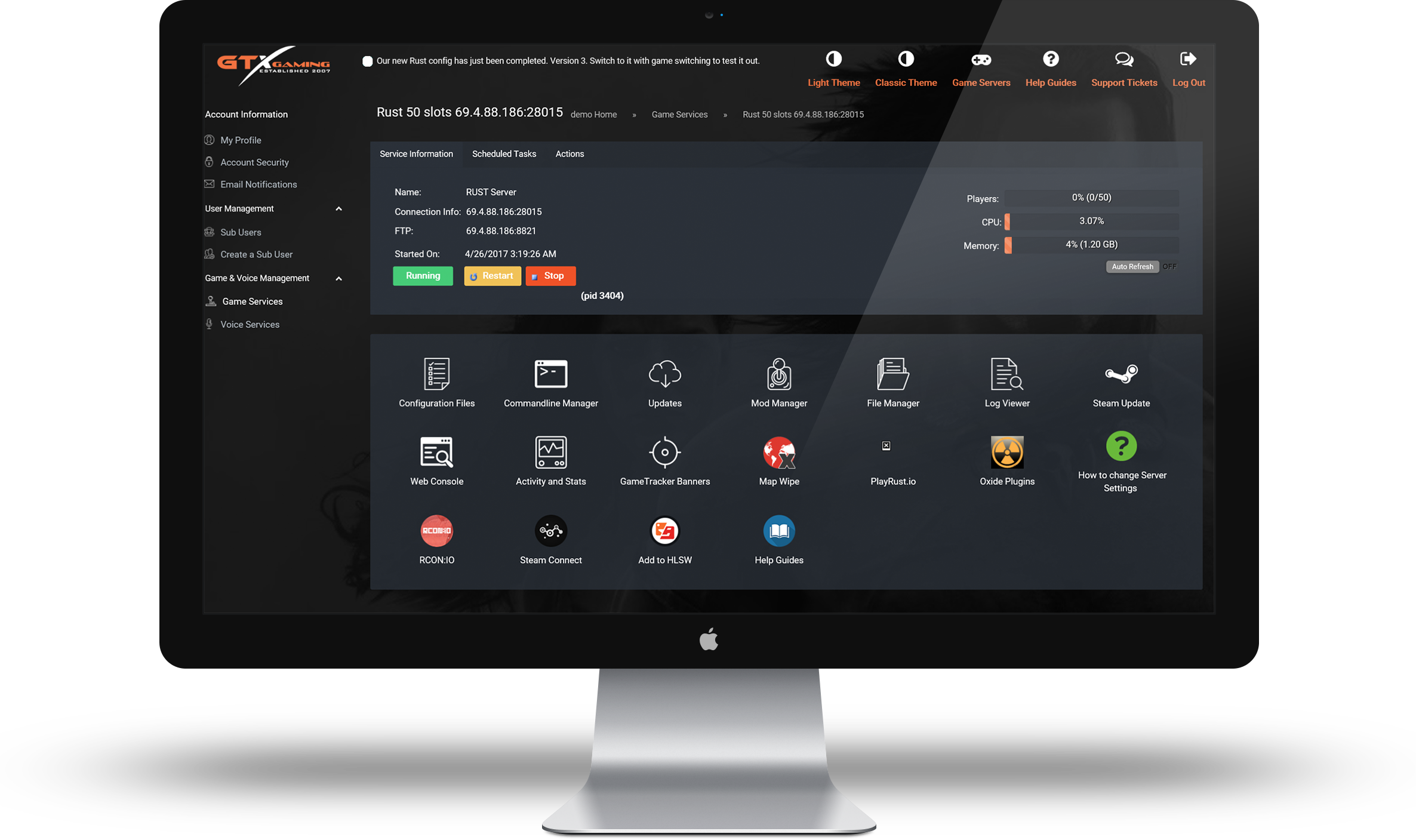 TCAdmin 2 Addon (Optional addon)
Now for £20 per month, you can have TCAdmin installed on your dedicated server machine with all of the GTXGaming control panel configs, including our world-renowned ARK Survival Evolved G2 template as well as Conan Exiles and all of the Arma mods (check the list of available games on our home website under our games list). Anything GTXGaming host you will be able to create a server with our configs and our scripts, so you know your game servers will be of the highest quality. When ordering the TCAdmin addon you will not get RDP access but a full tcadmin control panel to create and delete game servers.
Dedicated Servers
Are you looking for a machine with great performance at a reasonable price and no extra hidden charges for Windows Server 2008 R2? GTXGaming has designed a range of dedicated servers perfect for Small Clans and Large Communities who need power and adaptability. Choose between CentOS or Windows, Raid 0 or Raid 1 options.
Get a bespoke machine that's adapted to your needs and enables you to propel your project. The reliability of GTXGaming Servers is a decisive asset for your clan/business with 100% uptime.
All our machines come with full multi-layered DDoS Protection.