Counter Strike 2 Server Hosting
A lot of us here at GTXGaming have been playing Counter Strike for years and Counter Strike was actually one of the first games we ever hosted here.
So it is safe to say we know how to host Counter Strike 1.6. You can say we have been learning and updating our methods with the progress of the game.
If you struggle with any aspect of our admin tools all you have to do is open a ticket with the best support team this side of DE_Dust2, operating 24/7 just like the servers, we are here to help you get up and running quickly.
Also, we offer a 24-hour refund policy so if you change your mind we can refund you. No risk, hassle-free. Easy.
We back everything up in our state of the art offsite backup system so you will never lose data at GTXGaming.
If there is any reason you're still unsure about anything you are able to chat with our live chat operators and ask anything you're not sure about.
The locations we support are
Los Angeles, Dallas, New York, London, Paris, Madrid, Stockholm, Moscow, Frankfurt, Singapore, Sydney.
Yes, your CS:1.6 server is always online. That is the main reason to pay for game server hosting. All power and network traffic are covered in your subscription so that your server can be online all of the time. Even when your PC is turned off, your clan or community friends can join your server and play in your absence 24 hours a day, 365 days per year. 
If a CS:1.6 server update is released all you need to do is click the Steam Update button on our control panel. The server will begin to check your files and update as necessary. 
This will not affect your world or files.
Our servers are instantly setup.  Immediately after ordering you can click 'My Services' and get your username and password for the control panel.  
Once you are logged in your server may still be 'Installing'. This simply means that your server is updating to the latest CS:1.6 version via a Steam update.  After a minute or two, click refresh on your browser and your server will be shown as 'Running' and will be ready for you to configure with your own server title and admin password.
If you ever have any questions about your order open a support ticket.
Well, there are three ways you can host your own CS:1.6 server. 
You could host a server it on your PC, but this means leaving your PC online 24 hours a day which can be costly on power. Also, most connections do not have sufficient upstream to be able to host a decent server.
You could rent a dedicated server and host a CS:1.6 server on it. This option has some great benefits and we do offer dedicated servers should you go for this option. With a dedicated server, you will get all of the resources focused on one or several servers so you can guarantee the best possible performance. You get root access to the machine so you can easily update the server and run it with a Windows batch file. However, on the downside, there is the initial setup of the CS:1.6 server which can take some time and expertise to get right, as well as updating it when an update comes out. You would also need to install MySQL and configure it. We do offer a TCAdmin2 license addon which gives you access to our control panel to create servers for only £20 extra per month which will make things a lot easier but with this option enabled you will not get root access (to protect our scripts).
The best solution is to rent a server from GTXGaming. Server rental will give you the best value for money. You get the control panel for free, and we host the server 24 hours a day, seven days a week. Rest assured that we do not overpopulate our machines and your server will run as smoothly as if you had a rented dedicated server. There are also added options of high CPU priority too so if your server is bustling with 100+ players you can add this to get things even smoother and with our 24-hour support you can be confident that you can get your CS:1.6 server up and running in no time.
Counter Strike 2 Server Hosting Key Features
True Instant Setup
Our automation means your counter stike server will be up instantly, no matter what time of day it is. As soon as you order go to the client area, and services and get your username and password.
24 Hour no quibble refund. If you order a CS:1.6 server from us and are not entirely happy we will simply refund you.
Elegant Web Interface
With GTX you get full control of your game server via our beautiful web interface.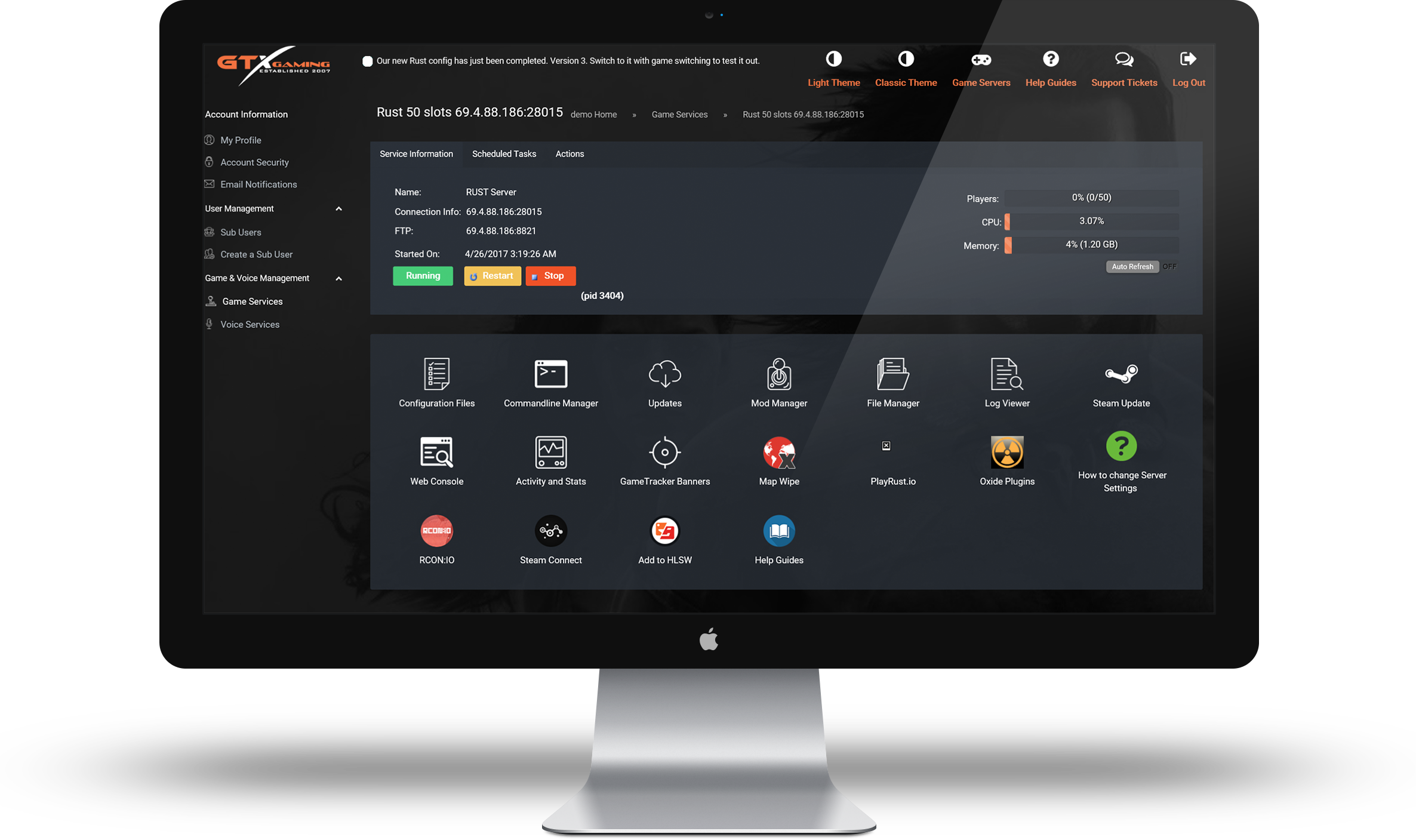 Safe & secure
GTXGaming makes extensive use of SSL encryption, database password md5 encryption and two-factor authentication across all of its services. Your personal information is 100% safe with us.
Help & Support
Support is open 24 hours a day, we are here for you and we pride ourselves on our high level of support and response time. Speak to us on live chat for a one to one.
Much more
Due to our investment in ownership, rather than renting, we are able to always give more to our customers than the next provider. Low margins and high quality delivered at very competitive prices. We give you extra.