7 Days To Die Server Hosting
Alpha 17 Available At GTXGaming. 17.3 Now available under Experimental.

Trial our 7 Days to Die Game Servers for 24-Hours absolutely Free. Order a server and as soon as you get to the invoice page, the server will setup instantly, you only need to pay the invoice within 24 hours to keep your server going. Read More Here.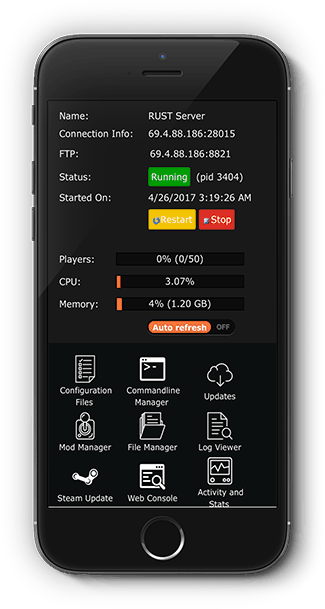 London, England, United Kingdom

We are hosting in a well-known London datacenter with the highest Level 5+ DDOS Protection provided by Voxility. 

New York, USA

We host with a first-class Datacenter located in New York with Level 5 DDOS Protection. 

Los Angeles, California, USA

Los Angeles data centre is one of our longest-running and has always been popular with gamers on the west coast, Level 5 DDOS Protection. 

Dallas, Texas, USA

Dallas, in the central USA, is a very popular location indeed, with an awesome Level 4 DDOS Protection. 

Miami, Florida, USA

A new location for us which is proving popular, enjoy Level 5 DDOS Protection. 

Montreal, Canada

Our Montreal datacenter has outstanding full Level 5 DDOS Protection. 

Paris, France

Hosted in Paris inside a very secure unit with our best Level 5+ DDOS Protection. 

Madrid, Spain

Level 4 DDOS Protection hosted in Spains capital city. 

Sydney, Australia

Level 4 DDOS Protection hosted in sunny Sydney, Australia.

Singapore, Malaysia

Level 4 DDOS Protection hosted in our Asia datacenter in Singapore, Malaysia.
7 Days To Die Alpha 17 Server Hosting
---
Our 7 Days To Die server hosting has been designed with the novice user in mind. You can easily assign admins with our easy to use configuration editors and get up and running in no time. We also have 24-hour support, and we answer fast. Try us out; we will refund you if you are not entirely happy with our service. Ask a pre-sales question by emailing support@gtxgaming.co.uk, and we can answer any queries you might have.
7 Days to die has redefined the survival genre, mixing Minecraft style crafting mechanics with an excellent shooter engine and with private dedicated servers available to all the game was an instant hit. Since then the developers The Fun Pimps have been releasing monthly updates keeping the game up to date and ever interesting and more complex. Our server hosting is made very easy, despite there being a vast array of options for seven days to die game servers we have made it incredibly easy to configure your server. Test us out for 24 hours and ask for a refund if not completely satisfied.
Our world class Hosting makes it extremely easy to edit and maintain a server. See the control panel video to get a feel for the in depth configs we have developed to make running your server as trouble free as possible. With very easy to edit admin config, just put your Steam ID in and save.
7 Days To Die Steam Page: https://store.steampowered.com/app/251570/7_Days_to_Die/
Publishers Website: https://7daystodie.com
Yes, your 7 Days To Die server is always online. That is the main reason to pay for game server hosting. All power and network traffic are covered in your subscription so that your server can be online all of the time. Even when your PC is turned off, your clan or community friends can join your server and play in your absence 24 hours a day, 365 days per year. 
If a 7 Days To Die server update is released all you need to do is click the Steam Update button on our control panel. The server will begin to check your files and update as necessary. 
This will not affect your world or files.
Our servers are instantly setup.  Immediately after ordering you can click 'My Services' and get your username and password for the control panel.  
Once you are logged in your server may still be 'Installing'. This simply means that your server is updating to the latest 7 Days To Die version via a Steam update.  After a minute or two, click refresh on your browser and your server will be shown as 'Running' and will be ready for you to configure with your own server title and admin password.
If you ever have any questions about your order open a support ticket.
Well, there are three ways you can host your own 7 Days To Die server. 
You could host a server it on your PC, but this means leaving your PC online 24 hours a day which can be costly on power. Also, most connections do not have sufficient upstream to be able to host a decent server.
You could rent a dedicated server and host a 7 Days To Die server on it. This option has some great benefits and we do offer dedicated servers should you go for this option. With a dedicated server, you will get all of the resources focused on one or several servers so you can guarantee the best possible performance. You get root access to the machine so you can easily update the server and run it with a Windows batch file. However, on the downside, there is the initial setup of the 7 Days To Die server which can take some time and expertise to get right, as well as updating it when an update comes out. You would also need to install MySQL and configure it. We do offer a TCAdmin2 licence addon which gives you access to our control panel to create servers for only £20 extra per month which will make things a lot easier but with this option enabled you will not get root access (to protect our scripts).
The best solution is to rent a server from GTXGaming. Server rental will give you the best value for money. You get the control panel for free, and we host the server 24 hours a day, seven days a week. Rest assured that we do not over populate our machines and your server will run as smoothly as if you had a rented dedicated server. There are also added options of high CPU priority too so if your server is bustling with 100+ players you can add this to get things even smoother and with our 24-hour support you can be confident that you can get your 7 Days To Die server up and running in no time.
7 Days To Die Key Features
Easy Admin Config
We have a very easy to use configuration editor to make adding admins extremely easy.
Starvation Mod (A16)
Starvation Mod is now available, once purchased open a support ticket from client area and request us to install this for you.
Backup System
Backup and Restore your Server Easily with our Control Panel.
Experienced Game Host
When you buy a game server from GTXGaming.co.uk you are buying from a company that has had ten years hosting game servers already. Experience is the key to success and we have seen many other companies come and go.
24 Hour Support
At GTXGaming we are online a true 24 hours a day to support you and help you configure your server. With lightening fast response times to boot. You will never be stuck at GTX.
Reliability
At GTX we only use real servers, no desktop parts here. Our reliability is unsurpassed and uses the very best enterprise-grade hard drives. We have not had a hard drive failure in 4 years.
24 Hour no quibble refund. If you order a server from us and are not entirely happy we will simply refund you.
*data correct as of June 2019
Elegant Web Interface
With GTX you get full control of your game server via our beautiful web interface.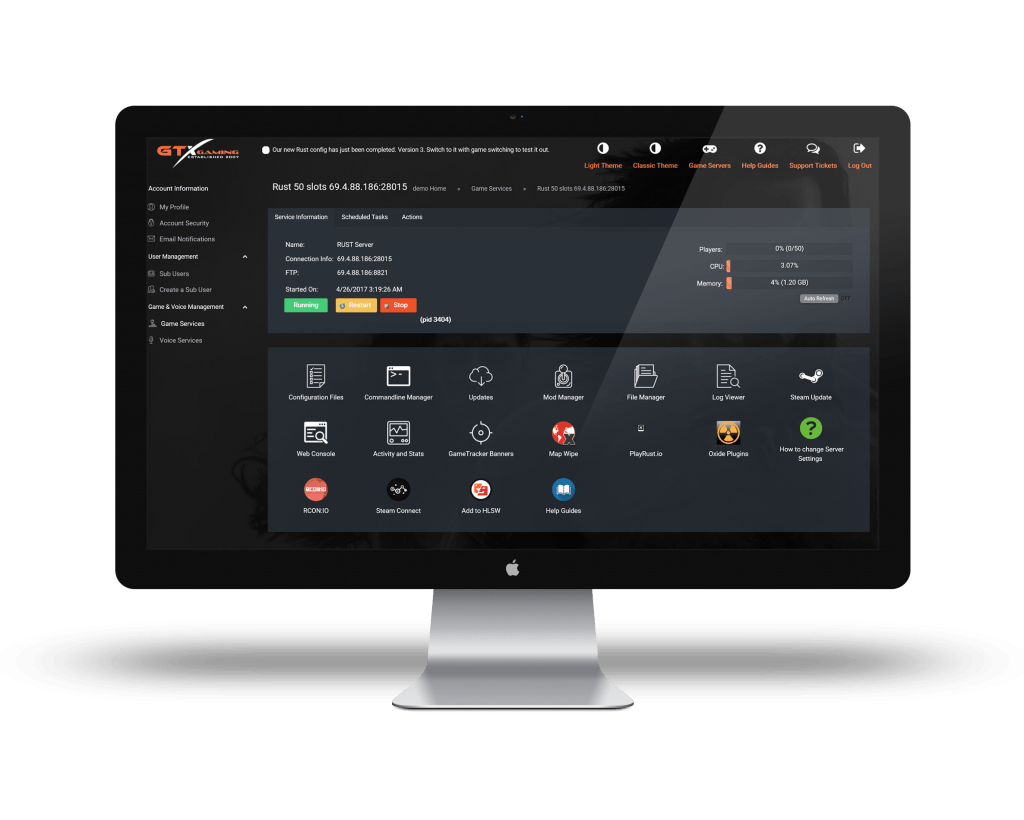 Safe & secure
GTXGaming makes extensive use of SSL encryption, database password md5 encryption and two-factor authentication across all of its services. Your personal information is 100% safe with us.
Help & Support
Support is open 24 hours a day, we are here for you and we pride ourselves on our high level of support and response time. Speak to us on live chat for a one to one.
Much more
Due to our investment in ownership, rather than renting, we are able to always give more to our customers than the next provider. Low margins and high quality delivered at very competitive prices. We give you extra.
7 Days To Die Game Information

The events in this game comes on the heels of a nuclear Third World War that left a large portion of the world in ruins, save few areas like the county of Navezgane in Arizona. The player of the game is this war's survivor who in order to survive must find water, food and shelter as well as search for supplies to fight off the many zombies(believed to be as a result of the nuclear weapons used in war) that fill Navezane. Besides surviving at this point, there is basically no specific objective, the game developers however made mention about the possibility of adding a storyline in its coming updates.
The game players in In 7 Days To Die moves into a predetermined world of Navezgane, Arizona or worlds that are randomly generated, with the aim of surviving for as long as they can. The zombies become more aggressive and tougher by the day. In 7 Days To Die, the player can form, manipulate or destroy objects. It also incorporates a physics system which makes any building constructed without any support like walls and pillars to collapse. Being a voxel-based game, the building of simple objects and its destruction in a physics-simulated setting is possible.

The major focus of the game is to have players survive the zombie's onslaught at night, since the game is made to have both day and night; the zombies are very aggressive and fast at night but weak and slow during the day. The system of the game makes the character in constant need of water and food. As the game goes on the player has to make or search for new tools because in the games world objects wear-off and diminish as they are used. To build their own house, the players can destroy existing structures in a bid to get materials for building. A distraction and stealth system is also present in the game to prevent unnecessary altercation with the zombies. The smell of raw foods or meat carried by the player will make the zombies able to detect the player. The zombies in the game will dig, climb, destroy doors and walls to reach the player and kill them. To survive the attack of zombies the player needs to put traps for defense in place.

On player-hosted servers, multiplayer is possible as the multiplayers will be able to communicate and interact among themselves in the world they find themselves. Depending on the options of the used server, interaction can be hostile or friendly. A local area network support is available for Single player worlds, to enable players join locally interconnected computers or worlds without any server setup. Single player worlds make it possible for players to provide Wide Area Network support. 7 Days to die Servers can work efficiently run on Linux, consoles and Windows. For multiplayer, there are basically two supported game modes: Creative and Survival (both standard and randomly generated).

Order a server now with no obligation
Refund if not entirely satisfied. (24 Hour)