GTXGaming Host over 1000 Rust Servers Globally.
Our Rust server hosting is highly specialized and tuned to perfection. GTXGaming has been hosting Rust servers since its first release in 2013 and we have developed our control panel into a powerhouse of features that make hosting a Rust server a breeze.
Our easy to use control panel makes changing the server settings easy with easy to use drop-down boxes, and text input fields.
We have full 24-hour support so if ever need advice or help we are available to you, plus a Discord channel with over 1000 active members.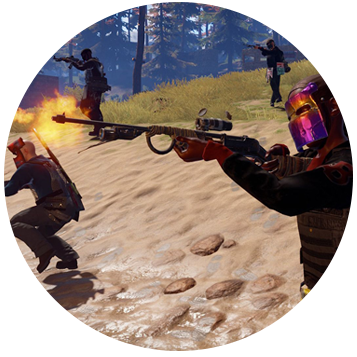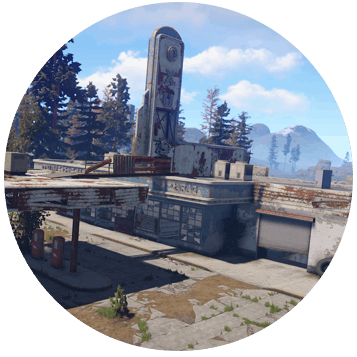 What is Rust Server Hosting?
Renting a Rust game server means you get a 24 hours a day hosted Rust server. No need to make sure your PC is always online for your friends and community to connect. Simply rent a server from as little as $9 per month, configure it, name it, and let it loose on the world. Your Rust server will be online 24 hours a day, 365 days a year. We pay for all the power and computing power to run your server, all-inclusive in your monthly subscription cost.
You can host your own server, but it's far more convenient and easy to host a Rust server with a provider that has years of experience hosting game servers, we keep ahead of the curve with updates and the latest hardware to make sure your hosting experience is as exceptional as possible. 
Rust Game Information
Rust's development started as a clone of DayZ, a well-recognized mod for ARMA 2, as well as showcasing Minecraft elements. Garry Newman, the Chief Executive Officer of Facepunch Studios, claimed that Rust kicked off as a DayZ clone before deciding that we are tired of attacking zombies and can no longer contend with the Arma Island concerning the towns and landmarks. After its initial alpha launch, Rust updates were released, with additional mechanics such as hunting, animals, weapons and armor. Zombies were removed from Rust in February 2014 and then replaced with wolves and black.] In its early development, we opted not to try to populate the world with exciting locations to explore, but rather offer the players the chance to make such places. Newman regarded it as "giving them the tools, while they create the world.
One of the primary objectives of the developers was to create the world that doesn't encourage some particular behavior from the players. They considered implementing a system that is similar to DayZ whereby players who kill others get different outfits that identify them as 'bandits,' or probably a color-coded or rating system. The developers, however, rejected all of these options, as they felt it would hinder the players' freedom. Instead, they discovered to their surprise that voice chat implementation had a significant impact on players' behavior. With the ability to effectively communicate, most of the players won't kill each other on sight as a result of fear.
The game is presently in its alpha stage of development, and it's being distributed by Steam's Early Access program. An "experimental form" for Rust was released in late 2014, and it was moved onto Unity . The experimental module featured CheatPunch, a different anti-cheat system which restricted over 4,621 cheaters. In October 2014, the experimental module metamorphosized into the default launch option. The heads-up exhibit featured statistics like hunger, health, and radiation level in the original game. These features were later replaced; the radiation level was modified to thirst and hidden statistics like hypothermia were also added. Radiation hazards used to be in monuments, but then the danger was removed in a later update due to the annoyance it causes players. Radiation, which was removed earlier in 2016, was then reintroduced in November, but was "reprogrammed from scratch, in a sense that rather than each location having the same levels of radiation, different levels (low, medium, and high) were included. No areas were initially marked as being high, due to the possibility of "it distorting the game.
In July 2015, female models were included in the game but were only available for server administrators to test-run them. Similar to the skin color attributes, genders will be automatically assigned to users which are linked permanently to their Steam account. Cosmetic items for clothing, guns, and other objects were later added to the game towards the end of 2015. When the "Item Stores," was introduced by Valve, Rust was the pioneer game on Steam to utilize the feature. The cosmetics were also sold by the Steam Community Market, resulting in conflicting prices. Some were cheaper in the store while others were expensive.
Elegant Web Interface
With GTX you get full control of your game server via our beautiful web interface.