The Lore of Valheim: Delving into Norse Mythology in Gameplay
You've been sailing, hunting, building, and dodging trolls for weeks now. But did you ever stop to think about the deep Norse roots that give Valheim its richness? Norse mythology isn't just about Thor's hammer or Loki's tricks. It's a dense tapestry of stories, morals, and lessons that have been beautifully woven into our favourite survival game. Let's journey through the meadows, mountains, and mists of Valheim, with an eye out for the Norse legends that lie beneath.
The Concept of Valheim: More than Just a Game
We've all faced our fair share of challenges in Valheim, battling monsters and braving the elements. But ever thought about why? In Norse lore, Valheim is a purgatory for warriors. This isn't just a random survival game; it's a trial. The aim? To prove your mettle and earn a place in Valhalla, Odin's hall for the chosen slain. Norse mythology paints afterlife as a continuous challenge, and in Valheim, you're smack in the middle of it, axe in hand, ready to face it head-on.
The World Structure: Yggdrasil and the Biomes
Yggdrasil, the World Tree, is a central concept in Norse mythology. It connects all realms and beings. Think of it as the spine of Norse cosmology. Now, think of Valheim's biomes: Meadows, Black Forest, Swamp, Mountains, Plains, and the chilling Mistlands. Each biome isn't just a change in scenery; they're a nod to the branches of Yggdrasil. Each offers unique challenges, resources, and stories, much like the realms that hang from the World Tree. The interplay of these biomes reflects the interconnected nature of the Norse realms. Want to learn more about the biomes then divert your eyes this way: Surviving the Biomes: A Comprehensive Guide to Valheim's Varied Environments
Creatures and Foes: From Dwarfs to Draugr
The variety of enemies in Valheim can be overwhelming: Greydwarfs lurking in the dark forest, eerie Draugrs in the swamps, and the ever-so-terrifying Trolls. But guess what? They're not random picks from a monster manual. They're deeply rooted in Norse legends. For instance, Draugrs are undead warriors in Norse stories, known for guarding treasures – sound familiar? Every creature has its backstory, a tale from the Norse legends that explains its quirks, its strengths, and its weaknesses.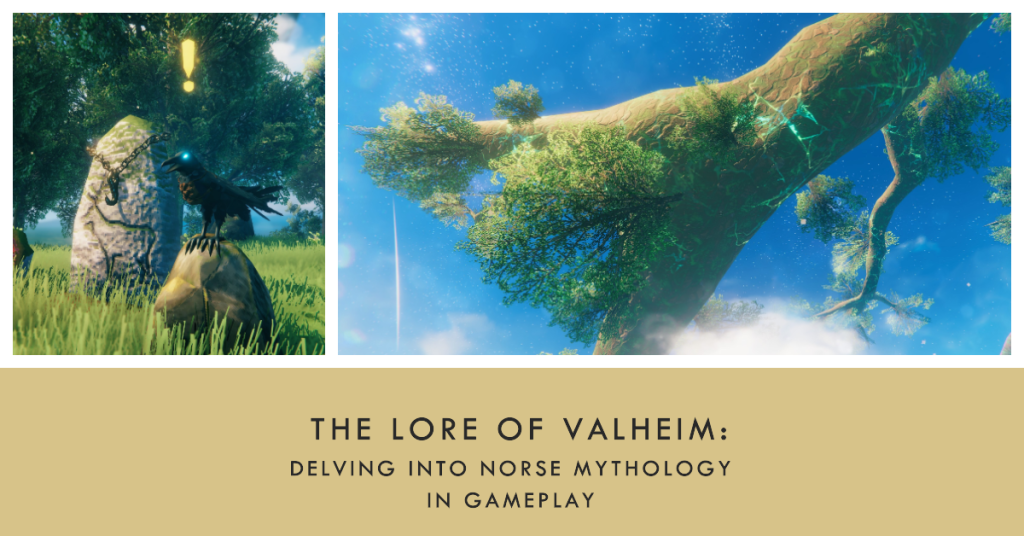 The Pantheon of Gods: Odin, Thor, and Beyond
Mysterious raven sightings? Thunderstorms out of the blue? That's the Gods making their presence felt. Hugin, the raven, isn't just a random bird. In Norse mythology, Hugin (thought) and its twin Munin (memory) are Odin's eyes and ears, constantly gathering knowledge for him. And the sudden lightning storms? Could it be Thor having a bit of a tantrum? These aren't just environmental additions; they're tales of gods, immortalised within the game.
Legendary Weapons and Artifacts
Valheim allows players to craft an array of weapons, from basic clubs to the epic silver sword. But these aren't just random designs. They're inspired by artefacts from Norse tales. Think of Mjölnir, Thor's legendary hammer – while it might not be craftable (yet!), its influence is undeniable. Many of the weapons and artefacts you create echo the power and might of those wielded by gods and heroes in Norse myths. We go more in depth to the Weapons of Valhalla: Choosing and Upgrading Your Arsenal in Valheim here.
Boss Fights: Epic Battles with Mythological Beings
From the stag, Eikthyr, to the terrifying Yagluth, every boss in Valheim is a challenge and a story combined. They're not just massive enemies with bigger health bars; they're legends. Each boss represents a facet of Norse mythology, a story or being that has been transmuted into a challenge. Eikthyr, for instance, could be seen as a nod to the stag Eikþyrnir from Norse mythology that stands upon Valhalla chewing the branches of Yggdrasil. Want to know how to stand the best chance against the bosses, then read on Valheim Ultimate Boss Guide. How To Defeat Them.
Norse Values and Gameplay Mechanics
Valheim isn't just a test of your gaming skills; it's a test of character. Bravery, perseverance, camaraderie – these aren't just game mechanics, they're Norse values. Surviving in Valheim requires the same determination that Norse warriors needed to survive their challenging environment. Whether you're working together to build a fortress or joining forces to bring down a boss, Valheim constantly underscores the importance of teamwork and courage.
Exploring the Future: Upcoming Expansions and Norse Myths
Valheim is an ever-evolving game, and with every update, we can't help but wonder what other myths will be integrated. From the fiery realm of Muspelheim to the icy plains of Niflheim, the Norse cosmology is brimming with tales waiting to be told. Future expansions might bring new challenges, biomes, and stories, each adding another layer to this immersive game.
Conclusion
Valheim is more than just pixels and gameplay mechanics. It's a rich tapestry of Norse myths and sagas, waiting for players to unravel. Each tree you chop, every stone you mine, and all foes you face are a part of this vast lore. As you venture forth, keep an eye out for the legends, for in them lies the true essence of Valheim – a tale as old as the gods themselves.
For those deeply invested in the intricate Norse world of Valheim, having a seamless and lag-free experience is paramount. This is where GTXGaming.co.uk steps in. Offering dedicated Valheim server hosting, they ensure that your exploration of Norse mythology is uninterrupted, letting you focus on conquering biomes and deciphering tales. Whether you're a solo warrior or part of a clan, their servers provide top-notch performance, making your journey through Valheim not just a gaming session, but an immersive Norse saga. With GTXGaming, delve deeper into the myths, knowing your game runs on the best.